Summer 2019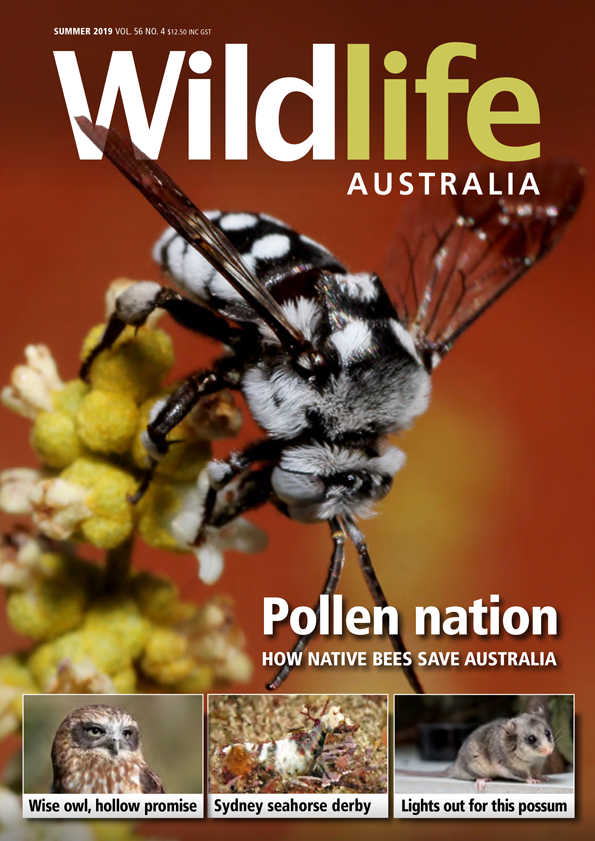 Summer 2019:
Pollen nation – How native busy bees save us all
In this special report on Australian native bees, Wildlife Australia looks at how vital they are to our natural future, as well as to future agriculture. Australian native bees have been out in the wilderness – or at least far from general public notice – until recently, when overseas honeybee colonies became afflicted with various debilitating conditions. Fortunately, Australia's bee researchers and enthusiasts have been doing a lot of problem-solving work that is coming in very handy right now.

'Lights out' on a species is usually bad news, but in the case of the endangered Victorian mountain pygmy-possum, it could be the answer. A campaign to help save this threatened pygmy-possum comes down to public support in securing darkened flightpaths for its key food source: the bogong moth. The public can help, and so must Canberra, according to Zoos Victoria.

Are feral cats getting a fair go? It is a perplexing question posed by a new book, Cats in Australia: Companion and Killer, published by CSIRO. There is no more vexed question about feral animals in Australia than that of the role of cats: Tim Low reviews.

Is the intriguing black-tailed dusky antechinus headed for extinction? First we saw them, now we don't. QUT researchers are concerned about the sudden disappearance of this antechinus species, whose males die from overly energetic procreation activity. Seriously.

Renowned for its magnificent harbour, up until this book – Underwater Sydney by Inke Falkner and John Turnbull – few realised the City of Sydney is also set on one of the most bio-diverse harbours on earth.

Seeking the spotted-tailed quoll, Wildlife Queensland embarks on new research to find and help sustain colonies of this top-level Australian predator in South East Queensland.

Great Barrier Reef reborn? James Cook University (JCU) brings coral larval restoration to Cairns reefs.
Purchase this issue